---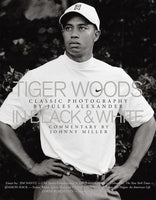 Tiger Woods in Black & White Book
Alexander Images Inc.
Tiger's every movement commands our attention and Jules Alexander captures many of his actions for golfers and non-golfers to study and admire.
Summary
Tiger Woods is not only the world's most recognized athlete, but its leading exemplar of excellence. His breathtaking athleticism, superb technique, grace under pressure, and the sheer scope of his ever-expanding record have combined to make him — at age 32 — widely regarded as the greatest golfer to ever play the game.
Like other physical geniuses, his very movement commands out attention. But despite the millions of words and images put forth in the pursuit of Tiger, Woods remains a largely mysterious figure. In spite of his exalted acts on the golf course and ubiquitous presence as an endorser, he gives very little of himself away. Naturally, his enigmatic nature has only increased our fascination.
ESSAYS BY
Johnny Miller is the lead golf analyst for NBC Sports, a position he assumed after winning 25 professional titles including a U.S. Open and a British Open championship. Miller, whose candid insight into the game and its players has made him the game's most respected commentator.
Jim Nantz is among the most-recognized sportscasters in America, having covered a wide array of sports for CBS since joining the network in 1985.
Dave Anderson, a New York Times sports columnist who earned a 1981 Pulitzer Prize for distinguished commentary, is the author of 22 books and more than 350 magazine articles.
Damon Hack has been covering golf for Sports Illustrated since 2007. The former golf correspondent for the New York Times has also covered the NFL and other sporting events.
James Dodson is among the most respected writers in the game. He is the author of "Final Rounds", one of the best-selling golf books of all time, and "Ben Hogan: An American Life".
Lorne Rubenstein is the golf columnist for The Globe and Mail, Canada's national newspaper. Among his ten books are "A Season in Dornoch: Golf and Life in the Scottish Highlands" and "Mike Weir: The Road to the Masters."